Our philosophy
We believe that all training should be built on cooperation.
It is supposed to be fun for both you and your dog.
An important part in your practice is to find the "rewarding-keas" that fits your dog.
Different kinds of reward are suitable for different dogs.
Sometimes you also have to teach the dog to appreciate different kinds of rewards,
before it can understand the benefits.
The dog also needs to understand the connection between training and reward.
A big storage of surprising and varying rewards for your dog makes you fun to be with.
It is like it is for us. We work better if we get a reward at work like for example a raise.
It is also about timing, giving the reward at the right time.
Some rewards are calming others are more suitable when action is needed.
Sometimes there is no reward at all.
The trick is never letting your dog know what lies ahead. It increases its expectations on you.
It is not only about training, but also about your way of living together with your dog.
How should you be thinking in your training?
A good rule is not to dwell and focus too much in the problems.
Instead you should think about the behaviour you would wish for.
An example is the dog barking at joggers in the woods.
Instead of focusing on the barking, you think: What do I wish my dog to do instead?
Maybe sit on the side of the road and wait while the jogger runs past you?
Then focus on that! At first by teaching your dog
"stay" in the calm environment of your home.
Later by doing it on your daily walks.
Eventually with the jogger in a long distance and later,
when that is working jut fine, closer to the jogger.
By that time, your dog knows what behaviour is expected and has its own expectations
in the treat and praise that will come, instead of focusing on the jogger. Problem solved!
Of course you should be able to correct your dog, but there is not that much learning in that.
It is more like an emergency brake. "This behaviour is not ok!"
It is important to be able to pull the brake on the behaviour of your dog
in every possible situation.
It is for example not ok to challenge another dog by starring
or putting the chin on the back of another dog.
If more dog-owners reacted on their dogs behaviour that soon,
a lot of dogfights would be avoided.
There are norms in a pack and you decide the norms in yours!
Our dogs have for example learned that they do not have to guard their food at all.
We do that for them. This has made our dogs very secure in the food-situation.
They will not react on a child or another dog trying to steal their food, in case of us not noticing the situation in time. That is safe – for us and for them.
After the emergency-brake is pulled "No!"
you show the dog what you wish and quickly give praise for the right behaviour.
That is where the learning for the dog is. The reward for the right behaviour.
It is also important to learn how to read your dogs body-language and react in time.
If your male dog for example wander around some ones house and lift his leg to put his mark, you need to react in time, already when he is sniffing around.
He does not have to walk around sniffing around indoors.
In the world of scent and fragrance he will almost unknowingly lift his leg and put his mark.
Forbid the indoors-sniffing, and the problem is solved.
It is the same thing with the fence of your neighbour.
Dogs need sniffing, but they can easily learn that it is permitted on different places.
Many times things are a lot easier than one think.
Another usual thing that you see is that you often say that a dog is misbehaving,
when in fact it may be both cooperative and have a will to please,
but has not understood what is demanded.
Sometimes we make demands that our dogs should accomplish something,
without showing the dog properly what it is we really want.
We make demands of things that we never taught the dog and think that it is a must for a well behaved dog to do so, and take it for granted. I have made that mistake many times myself, and then had to stop and think, motivate my dog, show the dog what I want often by simply just rewarding the dog
when it happens to do the right thing and suddenly the dog is able to understand
and manage to accomplish what I used to be annoyed over that it could not do.
Activity-passivity.
A dog needs activity to feel satisfied,
but it also needs help to learn to deal with its own stress and stay calm.
This is done by teaching the dog, in a friendly way, to stay calm in many different situations.
It is important that you are not aggressive towards the dog. If you find yourself in a situation where you need to force your dog to remain calm, you need to be calm yourself, friendly but dominant, and just hold your dog still.
The dog will get used to not getting an effect by getting stressed.
Never let go of a stressed dog!
That is the rule when you are clipping claws, standing on the grooming-table,
waiting at the door, walks etc.
You hold the dog by the collar and wait for it to calm down.
When the calm sigh is coming, you say "ok" and let go.
The dog learns to control its own situation, not by stressing, but by being calm.
This will generate more calm.
Sometimes it is easier for the dog to calm down if you hold on to its body
instead of the collar in stressful situations.
You help your dog to calm down using your calm, friendly dominance
and the dog will not get stressed by feeling the pressure of the collar against its throat.
Teach the dog to "ask your permission" to take the food, walk out the door,
jump in and out of the car, run off and play etc.
Wait for eye-contact, reward your dog and give permission to go "ok!"
A dog that learned this and also come running as lightning when called,
really do not have to know a lot more.
It will behave splendidly in your daily life together, because it is sensitive for your signals.
These are only a few examples to show you our thoughts about training dogs.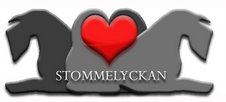 © Åsa Lundmark
Stommelyckans Hund & Hälsa